Note: In Kuwait, it's illegal to have alcohol, pork or porn. Hopefully 'food porn' is exempt, or I'm about to get sent back to the U.S. on a disappointing technicality.
It has been difficult to understand food shopping here in a city that is just as enamored with American restaurants as it is with its local cuisine. One night while awaiting my order at a nearby Lebanese restaurant I watched someone deliver KFC to the manager. I know what you're wondering, and yes, there's a Popeyes in Kuwait.
There is also a mall that houses at least two Shake Shacks, two IHOPs and two P.F. Chang's.
During one day's journey, I noticed a lineup of American food shops (pictured below). I know what you're thinking, and yes, that does look just like a New Jersey Turnpike rest stop (Sbarro not pictured).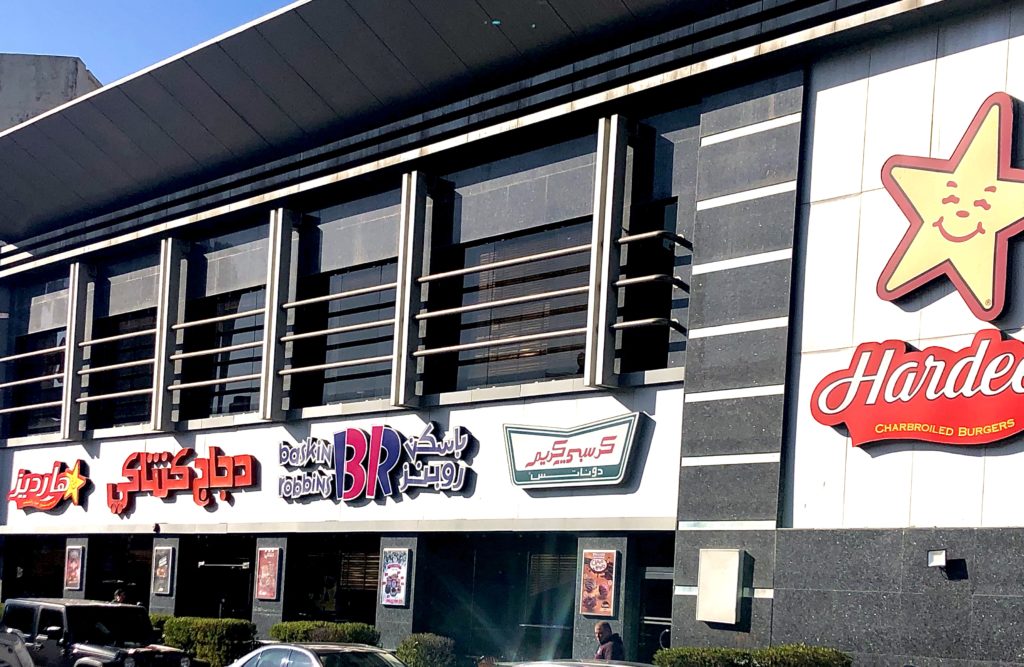 On that very same block in the middle of the sidewalk, small stalks of corn grow, like a gangster garden in the Middle East.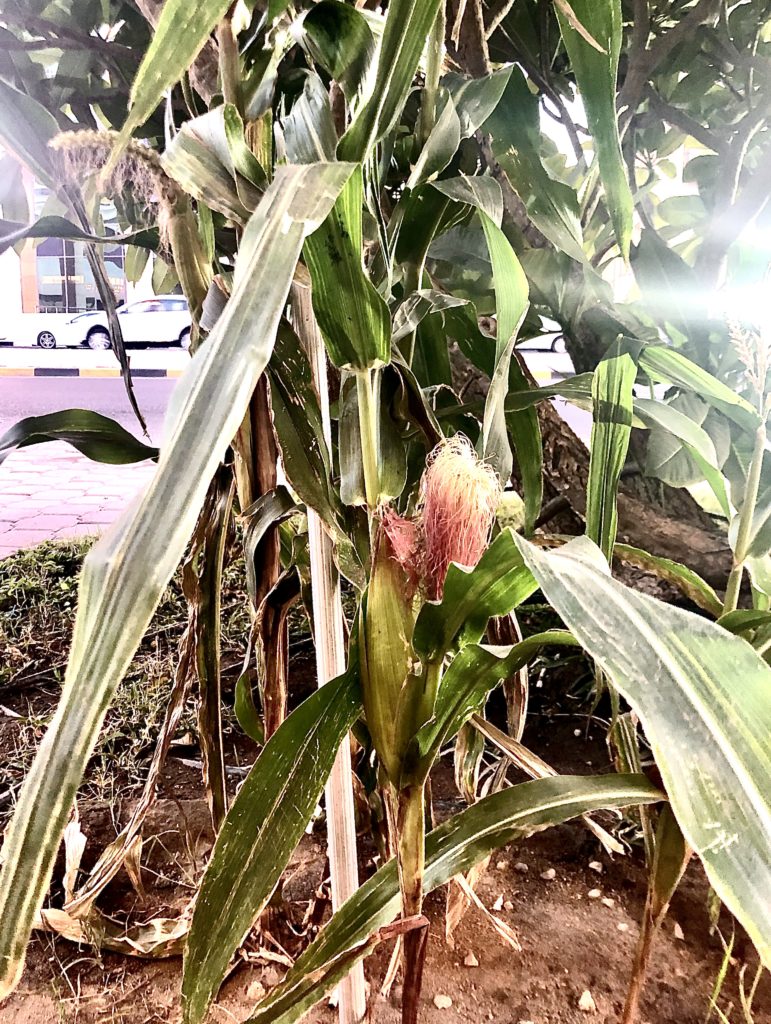 There are two grocery staples in Kuwait: The Sultan Center and LuLu Hypermarket. Both have entire aisles stacked with enormous bags of rice in every imaginable variety, like something you'd see at Costco, next to the vats of Cheetos and Twizzlers. It was puzzling until the first time we went out to eat in Kuwait, when it wouldn't have surprised me if they loaded the rice onto our plates with a crane.
The grocery produce comes from around the region, like the ash gourds from Saudi Arabia, potatoes from Egypt, melons from Oman and dates from practically everywhere. The snap peas come from Kenya, the sweet potatoes from Uganda. Exotic fruit like mangosteens, longans, rambutans and custard apples (cherimoya where we're from) are imported from southeast Asia.
There is plenty of Kuwait produce. Some of the tomatoes are both the color of and firmness of persimmons. There are avocados, or at least that's what the sign called them. The ones imported from Mexico are actually green and look familiar, but they're so costly that if they were in America, they'd be locked behind glass along with the razor blades and Tide Pods.
The meat isn't labeled as organic or free range or kosher. Here it's a safe bet that it's halal. There are racks and loins of camel—let's assume they are free range. Mutton is big here, as are the sheep testes (take my word for it; I fear the reprisal of showing a picture). And I know what you must be thinking: you'd never see brains at Trader Joe's.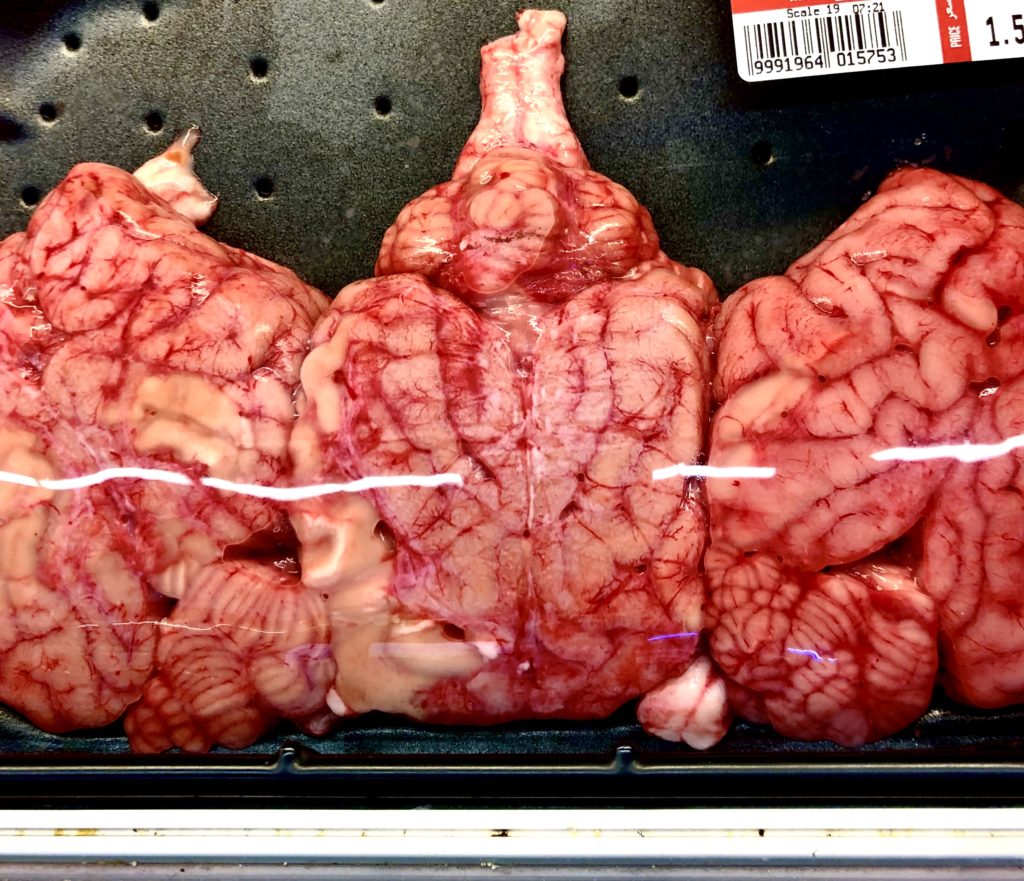 If there's a real butcher shop somewhere, we haven't found it yet. But we did find a farmer's market to end all farmer's markets. We learned of it from a local woman Anna met at the Sultan Center. We were all in search of Brussels sprouts—and a bank loan to pay for them. The two exchanged numbers and the woman texted us later about the Qout Market happening on Saturday.
Qout Farmer's Market
Going to farmer's markets always gives us joy, so we cleared our schedule, which is to say we cleared our schedule of waking up and asking each other what we should do for the day.
Qout Market calls itself a "platform," and its good to know that the subtle craft of marketing-babble is not indigenous to America.
Qout Market's goal is to bring together local farmers and artisans and the Kuwait community. In addition to the farmer's market, the organization has also produced an initiative called Nourish, a series of workshops about everything from nutrition to crafts. Another initiative, called FarmTable, is a two-day event where locals tour a farm, pick produce and have a meal.
Qout's main event is the Artisanal Farmers Market, produced monthly during the winter at Abraj Park, located in Kuwait's Adaliya neighborhood in Block 4—Kuwait is divided into a series of numbered blocks. The park is surrounded by a massive sports complex, and it features tremendous blue-and-white striped water towers that look like psychedelic mushrooms.
The market gathers local, small-scale farmers, crafts, purveyors of street food and live music. It brings in merchants from 21 different countries. In truth, this farmer's market's makeup was only about 10% produce. The rest was a hodgepodge of children's arts and crafts and activities, local merchants selling handbags, clothing and perfumes (I searched, unsuccessfully, for bacon-scented incense), and spectacular Middle East street food, much of it from restaurants, chefs and boutique food shops around the city.
As the morning wore on, the market got crowded. The community was all decked out and bedazzled. Groups of young women taking selfies, adorned with accessories of Gucci and Louis Vuitton and Prada, mixed with gorgeous families with well-behaved children eating cotton candy infused with sparkly confetti.
Here Comes The Food Porn
There were more than a dozen coffee stands, including one belonging to a woman named Sara, who roasts and blends her own version of Arabic coffee. She drew us in with the massive pestle and mortar used specifically to grind roasted coffee beans.
Several vendors sold honey, all from a variety of Middle East countries, including Kuwait.
There were breads and pastries and assortments of croissants, some made with pistachio, others with saffron, all of it stunning and tempting.
We held out for a little stand making bowls of overnight oats with rahash, which is a milky halwa. We discovered the stand by simply trusting the longest line of locals.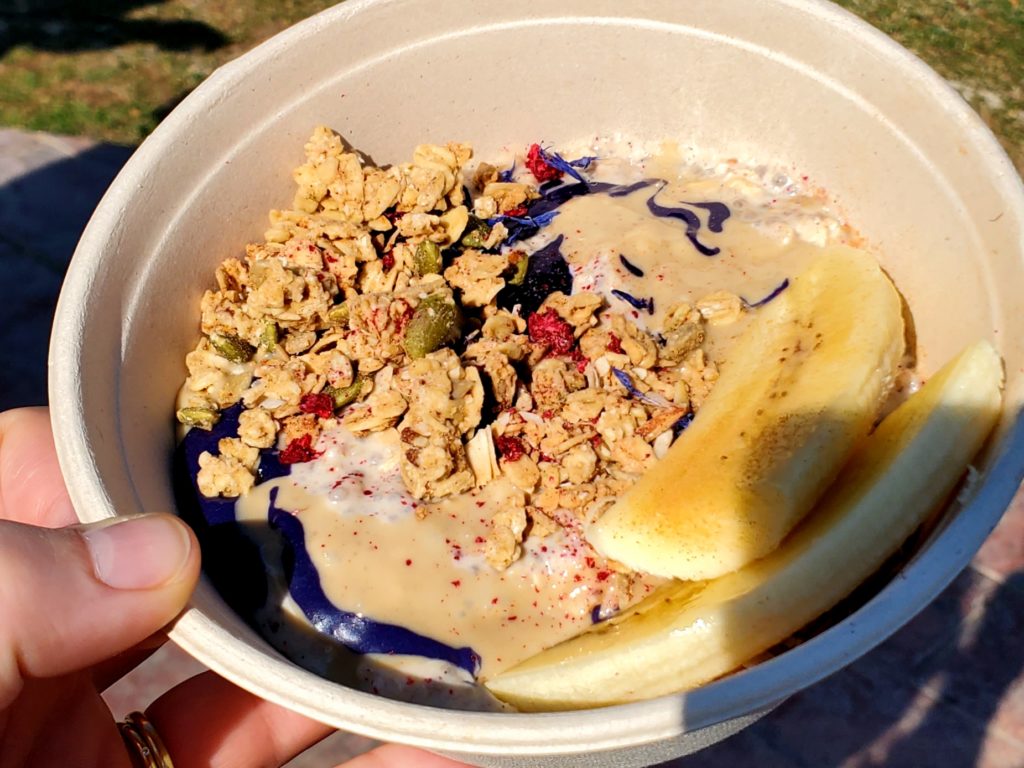 It's a strategy that served us well throughout the day, including at a Lebanese installment that included extraordinary dolmas, herbed balls of labneh, pickled olives, eggplant and artichoke, and a mixture of spicy pickled beans, peppers and walnuts.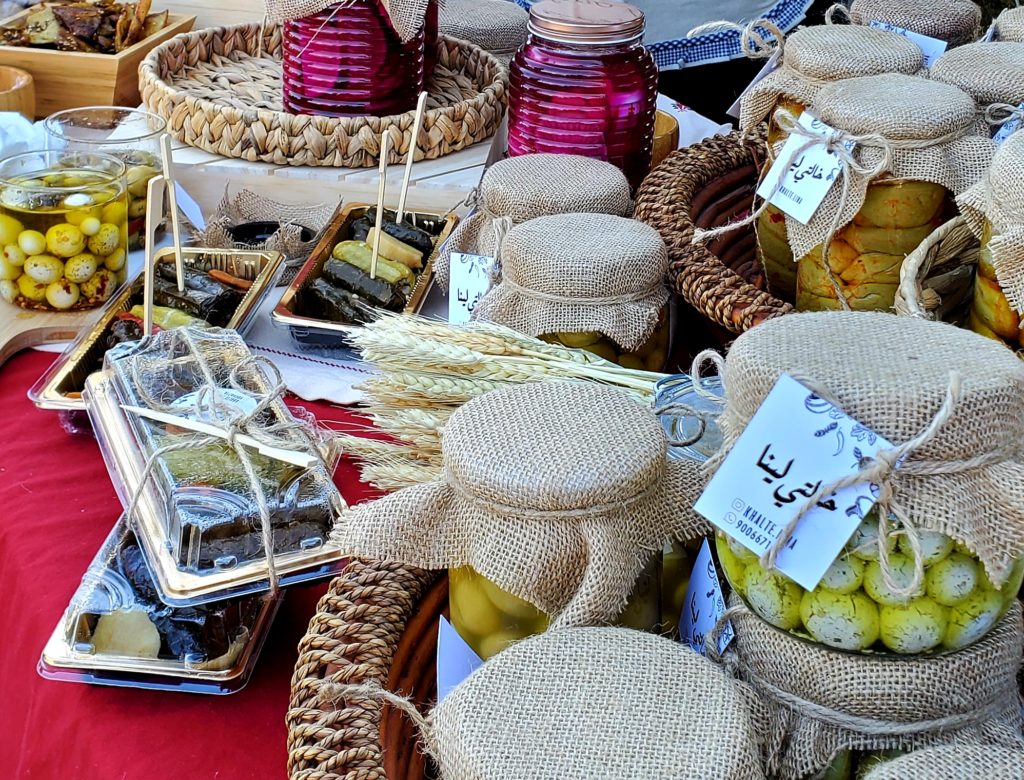 The Shashlik Company made a simmering Uzbeki beef plov, but the barbecue spit caught my eye. And I know what you're thinking: that goat sure looks a lot like a pig.